[Wow-Herd-Effects id=1]
Best foreign currency exchange offices in Paris!
Get our free app to locate the currency exchange offices in Paris (and worldwide)

Loading map...

Thanks to

co

Change

, identify the most interesting rates in the exchange offices close to your place in Paris!
Stop wasting your time searching for the best exchange rates! coChange is the vital free app for your journey overseas:
Wherever you are in Paris, locate a foreign currency exchange office without fees.
Find the most convenient information (map, address, phone number, web site, opening hours) about the foreign exchange bureaus around you.
Compare the quality of the foreign money changers. Give them a review and share your recommendation with the coChange community.
Get special rate offers from our partners foreign money changers (with the option to book your money directly).
Here is a list of foreign currency exchange booths in Paris. To obtain a more exhaustive list, in Paris (or all around the world), download our free app!
Once there, don't forget to tell them that your are recommended by coChange!
Websites and people that we recommend to prepare your trip to Paris and France:

Oh My French. Start shopping like a Parisian. Live the experience of a Parisian, experience our shopping tours, discover hidden gems, enjoy exclusive privileges, earn points and share your status of « Parisian Shopper » with your friends.

At The Corner. Find a luggage storage around you and lighten your day. To take care of your luggages for the day, we have selected the best hotels. Starting at €10 per bag and per day.

Imagine feeling totally confident and care-free about your upcoming trip. And, you did not have to lift a finger to plan your trip. You will enjoy a vacation with all of your details expertly planned out – just for you. Virtually, just pack and go with DayDream Excursions!
Travel France Online is a Free Online Travel Resource that helps you discover and enjoy French History and Culture.

La Parisienne Personal Shopper is specialized in fashion personal shopping tours for women in the City of Light. It makes the shopping process easier by guiding you to clothing lines and stores that work for you.

Bateaux Vedettes du Pont Neuf Paris. From the Louvre Museum to the Cathedral Notre-Dame, passing by the Eiffel Tower, discover the most beautiful monuments in Paris the time of a cruise on our boats along the Seine. The cruise departs from Paris' oldest bridge, the Pont-Neuf, and is commented by our guides in French and in English.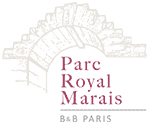 Parc Royal Marais. Charming guest house – Paris, Le Marais. Right next to the Picasso Museum and within 5 minutes walking distance from the Place des Vosges, the Parc Royal Marais offers a quiet and green haven in the heart of the historic Marais district. The apartment is located in the garden of a beautiful 18th-century mansion house listed as a Historical Monument. Let yourself fall under the spell of this unique and special place.

Ambiancity, Your romantic room ambiance. We transform your room into a true love nest, according to the theme you've choosen. Don't chose your hotel for its services… Ambiancity will settle your ambiance in any hotel in Paris.