Many of you ask us if currency exchange offices are more advantageous than bank cards. Our objective is to gather all the data that will allow us to answer you in the most reliable way possible according to the different cases. In the meantime, here is a decryption of the 2.0 bank cards!
Bank fees abroad are very expensive, even if you are not aware of them. Depending on your bank, and the offers you have subscribed to, these hidden commissions (withdrawal, payment and exchange fees) reduce your travel budget without you noticing.
Since recently, there are fintechs, 100% digital banks that allow you to manage all your transactions on your smartphone.
But how do you choose your fintech bank? Which one is more profitable according to your travel habits?
What is the difference between a fintech and online banking?
Do not confuse the two! They differ in their nature, their support, the services offered, the functionalities…
An online bank is always attached to a traditional bank and managed from a computer. As for FinTech, they are considered as a payment institution: they facilitate the transactions of the customer who manages everything from his smartphone. They compete with traditional banks by offering a basic service but with a very attractive and intuitive interface.
The products offered are also different, fintechs do not usually allow to open a savings account, to be insured or even to make a loan. They only offer the possibility of having a current account with a credit card.
In summary, fintechs focus on the customer experience but do not replace traditional banks (for the moment). Their strong point is the instantaneous nature of transactions and ease of use. It's up to you to see what suits you best!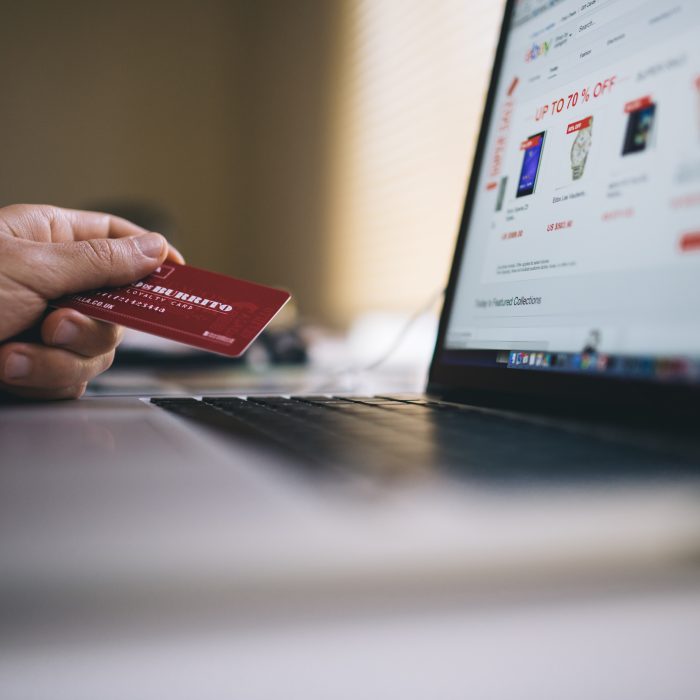 What is a "multi-currency" credit card?
Some fintechs provide multi-currency bank cards.
They offer the possibility of having several wallets in different currencies. This way, you can recharge your account in the currency you want. When you make your payments, the debited account corresponds to that of the currency in question.
So you only have to worry about the conversion twice: when you top up your bank account and when you make a cash withdrawal abroad.
Those multi-currency bank cards are secondary, to use in complement of your main bank card. Frequent travelers always recommend to bring at least two bank cards when going abroad!
The different rates used
Each fintech does not apply the same exchange rates!
The most common are Visa, Mastercard and interbank rates.
Payment fees
For online payments, at a merchant, in your currency or in a foreign currency
Withdraw fees
When you withdraw cash in an ATM, at home or abroad
Exchange fees
Fees charged when you spend in an other currency than your account currency
Currencies
Is the currency of your destination is considered by your fintech bank?
Conditions
Some accounts can only be purchased for residents of specific countries
Comparison table of the fintech cards for travel
Cost of the cart
Payment fees
Withdraw fees
Exchange fees
Multi-currency account
Curve
£35 or £75 (it depends the offer)
Free
 £2 in a non-domestic currency
1%
No
N26
- Free
- N26 Black : 7.90 €/month
Free
- In EURO : free for the 5 first withdrawals then £2 (unlimited in Italy, Austria and Netherlands)
- In foreign currency : 1,7% (free for N26 Black)

Mastercard rate
No
Revolut
Free
Free
-Free if the amount is under £200/€200 in the month, then 2%
Interbank rate up to 5000 € per month then 0,5%
Yes
WeSwap
Free
Free
£2 if the amount is under £200
Interbank rate
Yes
You have had a small overview of the different bank cards, but we have designed a more detailed description of each one so that you can make your choice!

N26: The entrepreneurs' mobile bank
N26 is a German fintech with a MasterCard and a current account. This 100% mobile bank is entirely designed for smartphone users.
Withdraw fees:
Withdrawal fees are free in the Euro zone for the first 5 withdrawals and then €2 (except in Italy, Austria and the Netherlands where they are unlimited). In foreign currencies, the rate is 1.7%.
Price of the card:
This N26 subscription is free.
Exchange fees:
The exchange rate used for conversions is MasterCard. N26 uses this rate when the transaction is made (day/time) and not when it is processed by the bank!
N26 Black card:
N26 offers an N26 Black card which is not free: €7.90 per month

Advantages and disadvantages
Quick

Account opening in 8 minutes and card delivery in 5 days

Low fees

No bank charges in Euro and Euro Zone
Card

No multi-currencies account

Conditions

Reserved for residents of 17 EU countries only

IBAN

The IBAN of your account will be German, which can cause problems especially in companies.
To be known: N26 does not offer a multi-currency account
Free delivery of your card if you click here to open an account:
(no need to enter a promo code when creating the account)


(offer ends on January 31)

Revolut: Your alternative to digital bank
Revolut is a British fintech that includes a credit card and allows you to carry out transactions in different currencies and crypto currencies.
Price of the card
The bank card is free, coChange offers you the delivery (€6)!
Payment fees
Transactions are free to any bank account and in the currency you want, but also to another user.
Exchange fees
The exchange rate used is the interbank rate up to €5000 per month. For an additional exchange rate, the fee is 0,5%.
Withdrawal costs
Withdrawals are free for an amount under £200/€200 in the month. Above this amount, you will have to pay 2% of the withdrawn amount.
Revolut Premium
Premium card which cost €8 per month. It allows you to collect up to €400 free of charge and also offers additional services such as travel insurance and free delivery anywhere in the world.

Free disposable virtual cards for Premium accounts.
Advantages and disadvantages
Crypto-currencies

Also takes into account 3 crypto-currencies

Quick

Account opening in 3 minutes

Rate

Access to the interbank rate without commission or mark-up
Week-end rate

Weekend rate differential (between 0.5 and 2%)
To be know : Revolut apply a differential rate during the week-end between 0,5 and 2%. This has been set up to compensate for any drop or increase in currencies when the market reopened on the Monday.
The only way to have a Revolut account is to have an address in Europe.

Curve : Connect all you accounts to a single bank card
Curve offers you a MasterCard that will allow you to connect all your accounts to a single card. It supports 18 different currencies.
Cost of the card
The Classic "Blue" Curve costs £3;5 to pay at delivery.
Exchange fees
Your exchange rate will be charged only 1%, unlike 5% in most banks. So what the rate applied is the MasterCard rate + 1%.
Withdraw fees
Withdrawals abroad are subject to a fee: £2 for one withdrawal. These are the only fees applied.
Advantages and disadvantages
Fees

No fees EXCEPTED for a withdrawals abroad (£2)

Connect

Ability to associate your bank accounts with your Curve card
Cost

Account opening cost between GBP 35 and GBP 75
To be know:
The card has a "systematic authorization" which implies a verification and an approval of your bank at each payment. This will sometimes require the merchant to rest the terminal on the pedestal for authorization to be issued.
The card does not have 3D Secure and requires the internet to carry out transactions (avoid tolls and motorway parking).
The Curve Black card allows you to receive twice as many loyalty points (compared to the classic Blue Curve bank card).
Click here for more info and to open an account

WeSwap : Exchange your currencies at low rates
How it works?
WeSwap users receive a free multi-currency card (18 currencies).
During your transactions she automatically guesses which currency is involved. Payment fees are free of charge.
The swaps or currency exchanges:
The application enables you to do "swaps" that are an exchange currency between two users. Depending on your needs, it is up to you to decide when you want your Swap to be realised.
Instant Swap:

1.4%

of the exchange amount
Swap of 3 days:

1.3%

of the exchange amount
Swap of 7 days:

1.0%

of the exchange amount
The exchange rate used is the interbank rate but at the time your swap is executed (so not necessarily when you start it).
Withdaw fees
Withdrawals are free of charge for amounts over £200. Any withdrawal less than this amount costs £1.50. It is therefore advisable to withdraw large sums of money less frequently.
Advantages and disadvantages
For travellers

Allows you to change the remaining currencies when returning from vacation
Withdraw

€200 for a free withdrawal, otherwise it's €1,75 par virement
Click here for more info and to open an account
To conclude:
Fintechs allow you to manage your accounts and make transactions quickly and directly from your smartphone in a lot of different currencies.
Whether you are a mother, a business traveller, or a student, each bank card can suit you. Be aware of the fees that are applied, the currencies used and the conditions required to open an account.