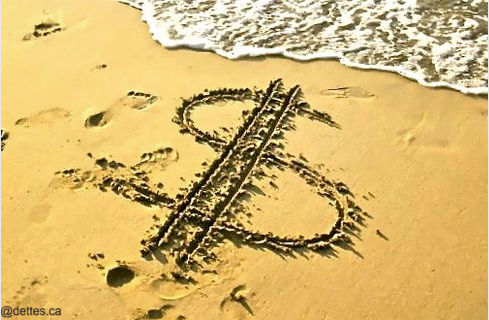 Managing your holiday budget is not always simple. Transportation, shopping, restaurants … it's easy to go over your initial budget. Fortunately, many smartphone applications now allow you to save money and manage your spending.
Piggy, for your holidays spent with friends (free)
Going on holiday with the whole family or with a group of friends? Finish the headache that comes from dividing expenses with Piggy! Simply enter the name of each person and the amount spent by each, as well as the nature of the expense. With a few clicks, the application will calculate the amount that each person owes and to whom. As bonus, there's the possibility of including different currencies.
TripXsense, to record all of your trip expenses (paid, €0.79)
You have a limited budget and don't want to go over it? This application has many positive attributes. According to criteria you choose before leaving on holiday, this app helps you to find a destination that works for your budget as well as a prediction for future expenses.
Once on vacation, you can track your spending, alone or with others, using multiple currencies. A very useful app that helps you to enjoy your holidays without blowing your budget!
Couchsurfing Travel App, stay for free with locals (free)
The largest expense in the budget vacation is always accomodation. In order to save money, opt for staying with a local host. Couchsurfing lets you stay for free with a welcoming local person.
This application shows the different possible hosts depending on your destination, gives a description of accommodations, and posts photos and reviews from previous couchsurfers. All you have to do is contact your future roommate !
Kayak: compare and save! (free)
To find the cheapest airline ticket, car rental or hotel room, this search engine compares many sites in order to find the best price and best possible combination.
You can customize your search criteria and receive alerts, create a travel notebook compiling all of your reservations and a travel list of things not to forget, and you can even convert different currencies. In short, this is a good "Swiss Army Knife" application for travelers!
Wifi Finder, to stay connected (free)
To avoid seeking a cyber cafe or blowing your phone bill with every call, this application finds all of the hotspots around you, in more than 140 countries. You are able to add locations not listed.
Cookening, to taste local cuisine (free)
For the local cuisine, nothing is better than tasting a home-cooked meal! This is the principle of Cookening, which connects local hosts to travelers seeking a homemade meal.
You choose what you want to eat, what city and what neighborhood, all according to the price. It is user friendly and works for every budget!
© Alexandra